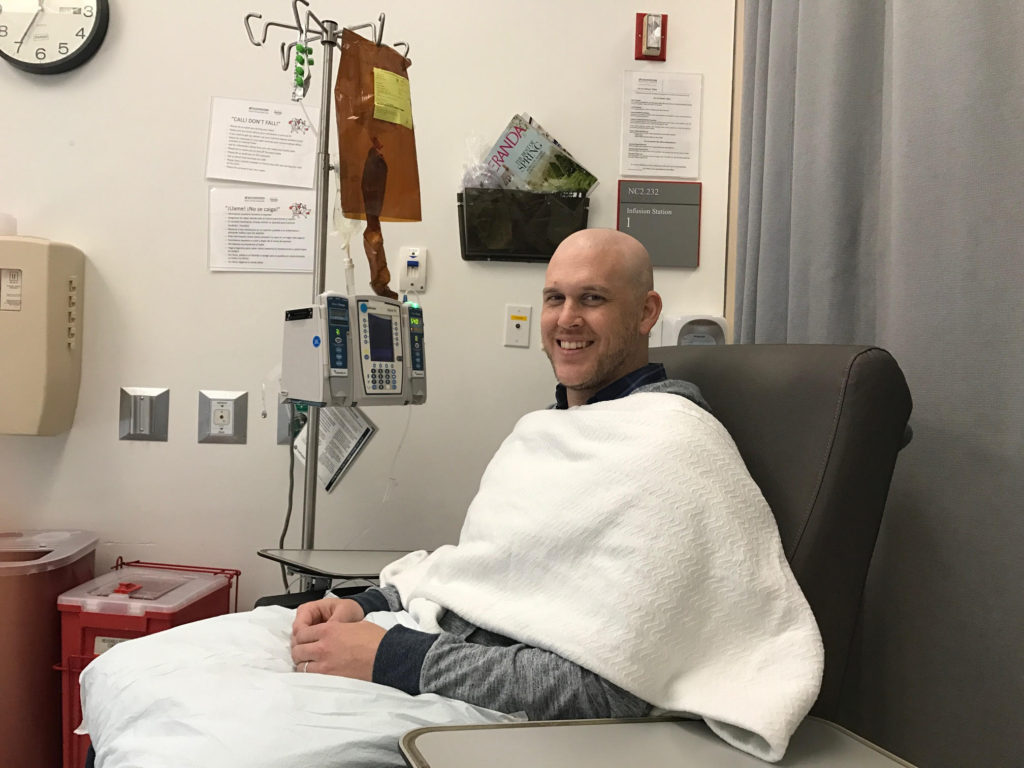 If you've seen the movie "Groundhog's Day", then you can get the basics of how our lives are right now. Pretty much the same, every day of the week, week by week. Not than I am complaining, because to be honest, things could be much worse. James could be having crazy side effects from chemo, no appetite, or even end up in the hospital. We are extremely thankful to be home, and for the most part, healthy.
Round 4 of chemo was on Monday. It was a bit more intense this time around. Thankfully, my dad had the week off of work and was able to drive us to and from chemo. He adds such an encouraging dynamic to the mix, and he of course had to lighten things up by trying on the oncologist's jacket! (PS. there are no words to describe how supportive both of our families have been to us during this time. We couldn't do this without them.)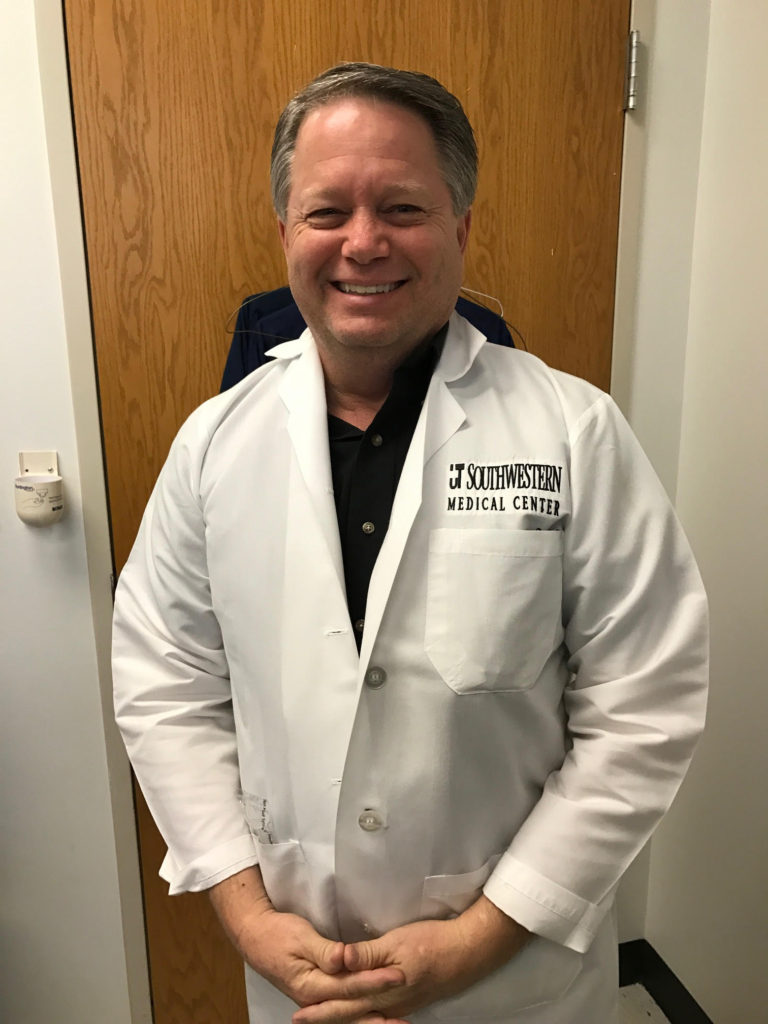 I'm not sure if chemo is cumulative. To be honest, I've been reluctant to ask anyone or google it for fear of the answer. But if I go off of experience so far, the answer is unfortunately yes. This round of chemo brought on what is referred to as "anticipatory nausea". That means the day BEFORE chemo, which used to be his best day, this time was greeted with a tad bit of dread and a lot of nausea. This ran into Monday and by the time the infusion began he was the worst I'd seen so far (again, I will say this though… it could be worse. But still, sad to watch him go through.) They gave him some medication and he slept through half of the four hour day at chemo.
His white blood cells are still low. Not low enough to make the doctors give him booster medication, but significantly below what a "normal" chemo patient should be. He needs to be over 1,000 and the last two weeks he has been at 310 & 370. The fact that it went "up a bit" is actually still a HUGE deal, but we definitely need these numbers to continue to rise. These are the infection fighting portion of your white blood cells (neutrophils), so he basically barely has an immune system.
So how does Groundhog's Day play into all of this? Well, if you don't have an immune system, then you can't really go anywhere. Don't get me wrong, we have gone a couple of times to the grocery store (during off hours) and a friends house to watch the Cowboy's game (SO FUN!) and we were able to squeeze in a lunch date on Sunday afternoon, but for the most part James has to stay away from anywhere that may subject him to infection. Which was fine the first week, decent the second, a little productive around the house the third week, but for this "going going going" wife, this fourth week is starting to get incredibly stir crazy. And I get to actually GET OUT OF THE HOUSE whenever I want. I go to work three days a week and have even had a couple of trips to the movies the last two weeks. But it's not the same. James is my best friend. He's the one I want to go do things with. So it just breaks my heart to leave him at home almost every time I go some where. It's lonely. Not only for me, but I would imagine for him as well. Given, he spends most of his time sleeping.
How are we doing? The best way I can describe it is we are tired but good. Alive. In love. Heartbroken. Anxious. Excited for the next round of treatment and the answers October 24th may bring. And as always, excited for Baby Sarah. She gets us through every single rough day.
Things we are currently believing for:
October 24th's PET scan to show NO MORE CANCER.
Wisdom for Dr. V to know exactly how many more rounds of chemo he needs and if radiation is the next step. (Which by the way would be after baby Sarah is here, so there's some emotions involved with that decision…)
White blood cell count (neutrophils) reach and STAY over 1,000
Grace for both of us as we continue to spend our days inside!!
Strength and no more nausea for James
Continued perfect and peaceful pregnancy (for me and Sarah!)
I know I've said it before, but James is a rock. He is so strong. I know that the Lord is truly working in him and there's no one else I could ever go through something like this with. You see, on average I have about one melt down a week. One melt down a week that usually includes lots of tears and things like, "Please don't leave me here. Tell me everything is going to be okay. Are you sure you are going to be okay? Do I HAVE to clean up after Mary-Kate this time? Can you just do it and be careful?" It can range from something extreme, to something petty. Each time, James patiently looks me in the eyes and tells me that everything is going to be okay. And then I put my big girl pants back on, swallow my pride and I do not cry the rest of the week.
Because here is what I do know. James is beating cancer. Jesus has already defeated it. His finished work is alive and working in my husband. The rest is just a mind game. And when I start to lose mine, we go back to the Word of God. We take communion. And we rest. We enjoy our cozy nights in, as they will be the last few months of just the two of us (and Mary-Kate of course) and we celebrate the small victories. Because "every day with you, even on our worst days, is better than any day without you."
Thank you for the continued support, meals, prayers, and friendships through all of this.
4 Down, 8 to go. And never again in JESUS NAME AMEN.
XOXO
Natalie
*My friend Bekah sent me this verse today, and it couldn't be more appropriate:
Isaiah 40:28,29 – "Have you not known? Have you not heard? The everlasting God, the Lord, the creator of the ends of the earth, neither fails nor is weary. His understanding is unsearchable. He gives power to the weak, and to those who have no might, He increases strength."