I always feel a bit awkward when they ask me if I need anything in the cancer center (a pillow, a blanket, etc.) because I know that what I am going through is nothing compared to what everyone else in that room is dealing with. Lets be honest, me being uncomfortable for a few hours is basically a joke. Nonetheless James usually ends up being my voice and makes sure I have what I need to begin our chemo days. He really is the best.
Since it's a holiday week everything is a bit backed up. We got put in a room with five other cancer patients going through treatment, and James' medication was delayed due to the number of people here. This makes the anticipatory nausea extremely difficult. Finally, one of the nurses came up to us and saved the day by asking if we'd like to do this treatment in a private room. (YES PLEASE!)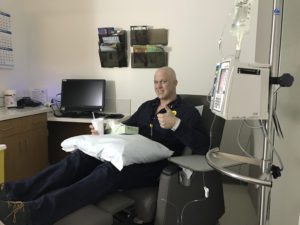 If you've seen me in the last few weeks then you probably know that I have bruised my tailbone (thats a thing right?) sitting in the wonderful chairs that are given to the significant others in chemo, so today I proudly marched in with my newest "butt pad" as we've been calling it. A late night impulse buy that we literally bought from an infomercial (we are their target audience at the moment!!!). Anyways, I only had to use it for about 30 minutes till we got to switch rooms and I am now writing you from the comfort of my own recliner and a private room while James sleeps through Round 7. PRAISE. THE. LORD.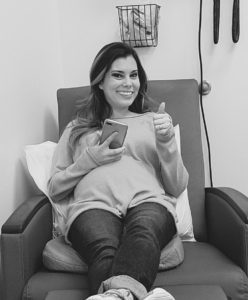 This morning we met with Dr. V who was extremely encouraging. Although James' infection fighting white blood cells (neutrophils) went from 900 to 70 (he should have at least 1000 to be considered normal), everything else looks fantastic with his bloodwork and we will continue with treatment as scheduled. This is such a continued praise report. I have to remind myself of that.
We were talking with my parents last night and I broke down about our situation. To be honest, I've been really battling with being angry with God. That is hard for me to confess having been a Pastor's kid for fifteen years. We're supposed to have it altogether right? Or I guess go the opposite direction. I never really fit in either category. But I had to come to a stopping point. A point of recognition that even though my husband got cancer, it doesn't mean that God hasn't protected us from so many things and isn't going to continue to do so through this process.
So although it may not be easy, I refuse to dwell on the "why us?" anymore. Because it doesn't change anything. Now, let me be VERY clear… God did NOT give my husband cancer to teach us a lesson. God did not do this at all. And if you try to tell me or him that, we will politely walk away. (Besides, it really is a horrible idea to try and figure out why something bad happened to you and ESPECIALLY to someone else. We will never know the full story.) John 10:10 clears that up real quick. "The DEVIL comes to steal, kill, and to destroy… but I HAVE come that you may have LIFE and life more abundantly!" So there is no mix up there. I was more or less dealing with "well why didn't you protect us from this altogether?" and you know what? WE DON'T KNOW. So. Moving on.
In light of this new revelation we decided to think about all the things that the Lord has done for us and protected us from. I encourage you to do the same if you are dealing with some of the thoughts I had been battling.
First off, chemotherapy is WORKING. Can I get an amen? We have officially scheduled a follow up PET scan for December 19th and are expecting 100% remission (CLEAN SCAN) that day. It will hands down be the best Christmas present of our lives. Please be believing in agreement with us for that!
Second, although James has been neutropenic throughout this entire process, he has had no fever, no infection, and hasn't even thrown up. Not to mention, he's been able to work from home (miracle in itself), put together our crib for the baby, put Christmas lights up on our house, continue eating as normal… and the last round of chemo before this one was his BEST WEEK EVER. Yes, nausea is still there. Yes, he really can't go very many places right now or be exposed to too many people. Yes, he is tired. a lot. But yall… these are all still HUGE PRAISE REPORTS for someone going through chemotherapy!! Again, I have to remind myself of that.
Last night we got to attend a friend's wedding that both of us had been believing that we would be able to go to. We didn't get to stay very long, but it is just one more thing we can add to the list of things God is doing for us right now.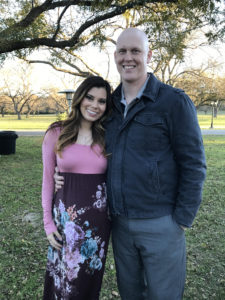 We are over the halfway mark. The end is in sight.
I could go on and on about just how far we've come.
The holidays last year were an interesting time for us. On Christmas Eve, I found out I was pregnant. The day after Christmas I was in the ER and no one could tell me if I was still pregnant. My blood levels were all over the place and it was up in the air (yea, definitely didn't know that could happen. Seriously? That should be a pretty standard yes or no answer). On New Year's Day they confirmed to me that I was no longer pregnant. I spent five long horrendous months crying myself to sleep wanting my baby back. I went into depression. I lost friendships. Then James landed in the hospital with an unexplainable 10cm mass in his chest. What? Back to fertility: We were told that the tests, medications, etc that we had done in order to get my body back on track again had not worked and that we would be in for a long struggle. But guess what? About a week later, the day after James' birthday, WHILE WE WERE IN THE HOSPITAL FOR HIS OPEN LUNG SURGERY, I found out I was pregnant with Sarah. Despite what the doctors had said. And now one year later, I get to be pregnant on all those days and know that she is almost here! My how far we've come. Restoration. I'm telling you all of this not to share our struggles, but to show you that God will restore what was lost. Don't lose faith. Don't lose hope. Even if the doctors tell you it isn't possible.
You guys, I am very thankful for doctors, but they are not my source. My trust and my hope is in Jesus. In His finished work at the cross and what he has already done. For me, for my baby, and for my husband. This world sucks. Can we just be honest? It does. But every single day I am finding a new reason to have hope. To continue fighting. Learning how to REST. (That one is so hard for me). To continue to stand on the Word of God even if I don't understand everything. Learning to live again and cherish every single moment. Embrace the small victories as we are well on our way to the big ones.
By the way, I write all of this on the first day of my third trimester!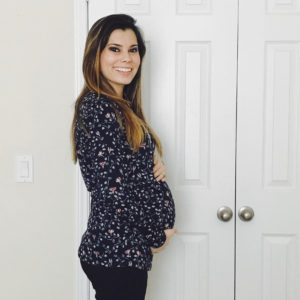 Three more months. Three more months and we will be done with chemotherapy. Sarah will be here. And get this! Even if James has to have radiation, our doctor told us that it would not prevent him from being around Sarah, which was our biggest concern. VICTORY.
Enjoy your families and loved ones this week. Cherish every moment. Don't sweat the small stuff. God loves you. He wants the BEST for you. He IS protecting you. And guess what? If you are mad at him…. HE'S NOT MAD AT YOU FOR IT!!! He's just waiting for you to come to Him and let Him love on you. He is so full of grace. I have to remind myself of that. Remind myself of all He's done and is continuing to do in our lives. There is so much to be thankful for. 7 down, 5 to go. My how far we've come. <3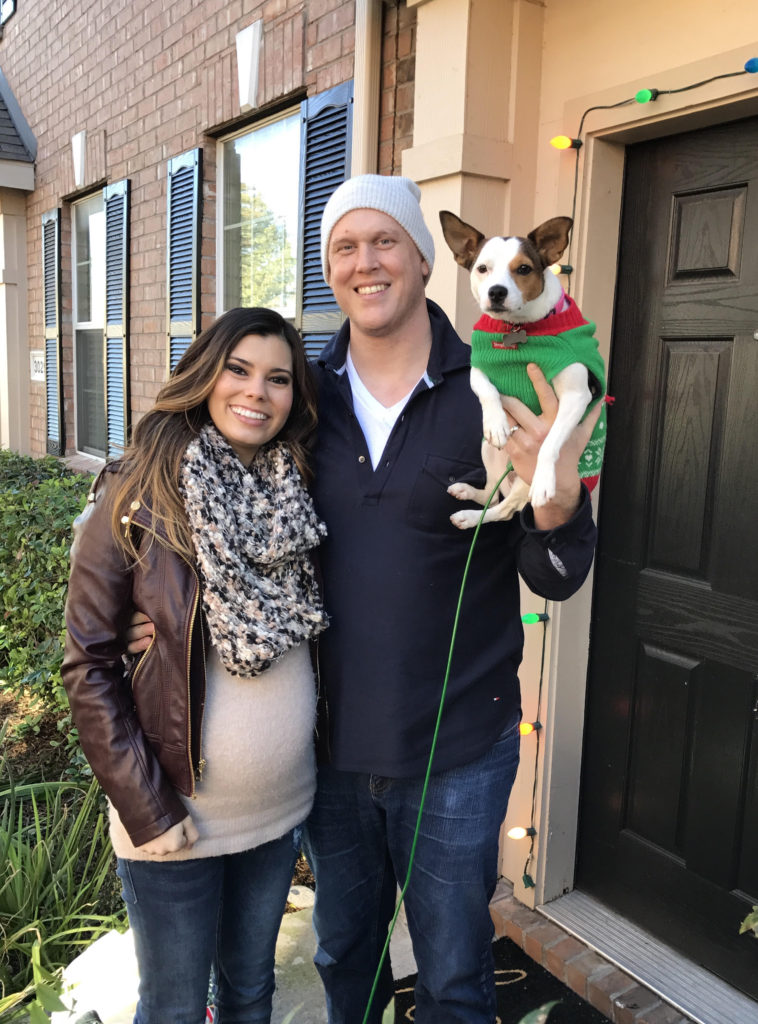 Happy Thanksgiving from the Caseys!!!!
XOXO
Natalie
Hebrews 12:3 
I have to add this as well because it is another HUGE thing that the Lord (and our incredible friends and family) have done for us with this fundraiser. It does not go unnoticed and unappreciated. Again, Thank you.